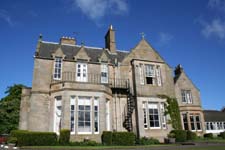 Think of an airport hotel or one set adrift in a city's suburbs and you may conjure up an image of somewhere characterless where you would never want to stay. Think again as Norton House Hotel & Spa is one of the Scottish capital's finest abodes, a grand 4 star country escape reclining in a wash of luxury in its own 55 acres of parkland and manicured grounds. The manicured grounds hint at Norton's grand heritage. The sturdy classic Edinburgh sandstone main house – more mansion than house in fact – dates back to 1840. The country retreat of the wealthy Usher Family – they also gave the city the landmark Usher Hall – may have had numerous additions since it was opened during Queen Victoria's reign, but it still retains a sense of real timeless class.
Stylish Extension
The main building is still the place to stay if you want high ceilings, big windows and traditional architecture. The Cramond, Lomond and Lothian suites are lovely. Many rooms in the main house enjoy sweeping views towards Edinburgh's chunky Arthur's Seat volcano. We liked the rooms in the 1980s annex the least, but were big fans of the stylish new extension that was added in the new millennium. This glass and sandstone gem blends on to the original stone house with its ground floor rooms ideal for families.
Usher's Fine Dining
Eating options are between the fine dining Usher's and the less formal Brasserie. Usher's is home to the likes of expertly cooked Borders roe deer fillet steak or wild halibut fillet and its ideal for romantic couples or those celebrating a special occasional. The brasserie suited us as a family with staff going that extra mile to keep the young ones happy. Starters included an excellent warm sweet Virginia bacon and chorizo salad, while highlights amongst the mains included decent ribeye and fillet beef steaks and pan fried duck breast. The main special changes regularly and on our visit was a succulent and well cooked pork belly. Amongst the wines the Spy Valley New Zealand Sauvignon Blanc was decent value at £35. Desserts tend to be a bit of an afterthought and are not always worth leaving room for with our sticky toffee pudding almost devoid of any sticky toffee sauce.
Impressive Leisure Facilities
Leisure facilities are impressive. As well as the trails that meander through the grounds there is the modern spa and gym complex. It is home to an 18m swimming pool, which has a sauna, steam room, hot tub and 'experience shower' attached. The gym is packed with all the latest equipment, while the spa houses eight treatment rooms. We liked the bamboo massage, not one for the fainthearted as you are pummelled with real bamboo sticks, but it is certainly invigorating and reckoned to be great for all sorts of muscular aches and pains. As a whole Norton is an ideal place to relax, a far cry from your average suburban or airport hotel, and a savvy traveller's alternative base for a break in the capital if you don't mind the 15 minute taxi ride out to this bucolic escape.
Norton House Hotel & Spa, Ingliston, Edinburgh, EH28 8LX. Tel. 0845 0727468. www.handpickedhotels.co.uk/nortonhouse
InsiderScotland Rating[effortless-gm address="[Norton House Hotel, EH28 8LX"]
For Families 7/10
For a Romantic Break 7/10
For Food 7/10
For Business People 7/10
InsiderScotland Rating 7/10.