As a travel writer I am always looking for great outdoor clothing, both for tackling the great outdoors in Scotland, but also for making forays further afield hiking in the likes of the Canaries and Slovenia. So I jumped at the chance to test out one of the top of the range Arc'teryx Beta LT men's jackets.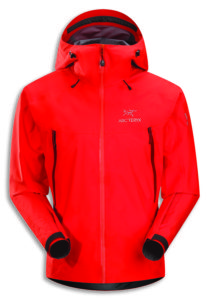 The Arc'teryx Men's Beta LT – Light, but not Lightweight
This is jacket with a serious RRP price tag of £330. This may seem a lot for what one of my friends very unkindly dubbed on first sight a 'posh cagoule'. This is missing the whole point here. This jacket has been manufactured to be incredibly light (355g  to be precise) to be able to popped inside a pack and not weigh down your suitcase. It is also light to wear out on the hills, when you really don't want to be carrying any excess weight with you as you bash up a steep slope.
The most important thing, of course, is performance and this is where the Beta LT excels. It is properly waterproof (including its zips) and won't get drenched after a decent downpour. I'd go as far to say that this GORE-TEX@ gem is the most waterproof jacket I've ever tested, not just water resistant like some I've had in the past.
The Arc'teryx Beta LT Men's Jacket is a toughie too whose micro-seam outer shell is part of a three layer system that really holds off the wind. It is reinforced at key pinch points too so it is durable unlike many jackets you have to chuck away after a season. The sturdy draw cord hood is also a winner. You can quickly draw it around your head and it seals off the weather well. The twin exterior pockets are a good size too, with an additional well placed pocket inside.
Part of its lightness is to do with the trim. This is much tighter with a higher waist cut than most jackets. This saves weight and the jacket taking up too much space in a pack. I liked the look of the trim fit, which worked well with micro fleece layers underneath for quick ascents and descents.
To Buy or Not to Buy?
I'd have no hesitation in recommending this jacket. Yes it is at the top end price-wise, but it is properly waterproof, strong against the elements, stylish and packs easily.
For a full product spec and sales links direct to Arc'teryx click here.
By Robin McKelvie
Also on InsiderScotland:
Category: Features