Gazing down the barrel of Loch Tummel it is easy to see what so entranced Queen Victoria about Perthshire. She famously loved the Highlands, but this staggering view out across the silvery waters towards the brooding peaks of Perth's mighty mountains was her undoubted favourite. This impressive panorama perfectly sums up the charms of Perthshire, an epically scenic and historic land and one of Scotland's most seriously underrated regions.
Perthshire is One of Scotland's Most Historic Areas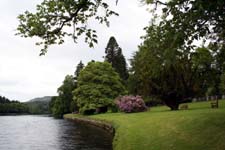 'Big Tree Country' packs a powerful natural punch with thick forests, scenic lochs and rugged mountains, as well as its trim eponymous capital, Perth. Perthshire is also one of Scotland's most historic areas, with a wealth of historic attractions and swirling with intoxicating tales of heroic Scottish kings, bitter battles and epic causes both won and lost. It is also a place for adrenaline pumping adventure sports.
Perth has an Unmistakable Grandeur
Perth itself was once Scotland's capital and where its kings were crowned (at nearby Scone Palace) and it still has an unmistakable grandeur. It is also a green town, flanked by a brace of two parks (the North and South Inch) and then on its eastern side by the silvery River Tay with a broad landscaped walkway ideal for riverside strolls. More cerebral pursuits are on offer at the ultra modern Perth Concert Hall, an impressive cultural oasis that plays host to an eclectic roster of events and performers. Next door is the Perth Museum and Art Gallery, a free gallery whose permanent exhibits are ideal for families with an ever changing array of temporary exhibitions too.
Highland Perthshire has Plenty to Offer
Highland Perthshire meanwhile has plenty to offer. The highest peak is Ben Lawers, which towers a whopping 3,983ft. Experienced walkers can tackle a handful of Munros on one arduous, but supremely rewarding, ridge walk. Others choose to tackle mighty Ben Lawers on the challenging day-long trail that starts from the National Trust Visitor Centre, where the less well equipped can just learn about the area.
At Perthshire's heart and soul, lying beneath Ben Lawers and with its waters reflecting a sweep of Munros, is the epic drama of Loch Tay. One of Scotland's largest lochs boasts crystal clear waters that are alive with all manner of wildlife and watersports that happily share its sweeping 14 mile long expanse.
Also on InsiderScotland:
Category: Argyll & Perthshire, Regions