Ok, I'm a big boy, I've done my fair share of walking over the years and don't need anyone to tie my shoe laces, nor fit my boots for me for that matter. Well that's what I thought until I was invited by Tiso to come and try their free boot fitting service at their Rose Street branch in Edinburgh, which opened another world up to a man who was revealed as a serial misfitter of boots.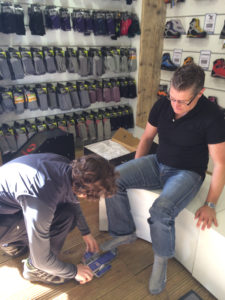 I have to be honest. I thought that boot fitting was just a cheap gimmick designed to sell more shoes. I'm quickly reassured it's not by the professional staff who say it's better all round as customers end up happy with correct fitting shoes, which means they don't come back in to complain and normally even come back again next time they need shoes. It's an outdoor shop win win.
The process is really straightforward and not awkward at all. I outline the type of boot I am looking for – something light but waterproof for using overseas in hotter climes – and away we go. I have my mind set on a brand, but am persuaded to try something different. I'm glad I do as my Salewa MS Alp Flow Mid GTX prove to be spot on. They are made with the new Goretex 'Surround' technology, meaning that not only is the upper breathable and waterproof, but the sole and base of the foot too. Handy when you don't want to get wet feet, but don't want sweaty feet either.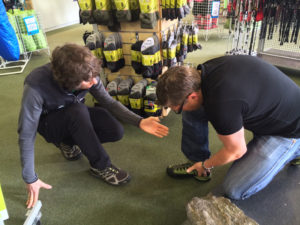 I'm pretty sure of my size, but we check anyway and we also – I'm ashamed to say – run through tying my boots and I find that here I am no expert. With a little tweak I am in the comfiest boots I have ever worn territory. I ramble over their handy 'rocky terrain' and stand on a steep slope to check the boots don't slip on the downhill and rub my heels. This is thorough stuff and I have to admit I'm impressed. So impressed that I take them and head downstairs in search of a general use shoe you can use for basic hiking too. My happy feet are on a roll.
I find it with the help of my new Tiso buddy. It's a Meindl Caracas GTX, again with Goretex in the design to counteract the water I often end up battling with on my travels. What I like about these is that they are smart enough to get away with visiting a restaurant in, but have a proper Vibram soles, sturdy ankle support and decent grip so I can use them for proper walks too.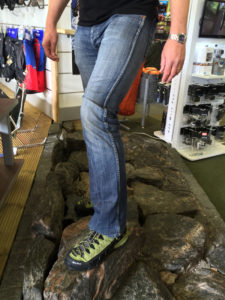 I entered Tiso sceptical about the whole shoe fitting service. I left a total convert and, yes, ok, I left too finally knowing how to tie my laces properly. If you're looking for a new pair of outdoor shoes or boots I'd thoroughly recommend you visit Tiso.
Performance 9/10
Service 9/10
Value for Money 9/10
Overall InsiderScotland.com Rating 9/10
Here's a direct web link to Tiso.
Also on InsiderScotland:
Category: Features