Knockinaam Lodge is tucked in its own wee hollow right down by the shores of the Irish Sea on the Rhins of Galloway in Dumfries and Galloway. Portpatrick is the closest town just to the north while the Mull of Galloway and Scotland's southernmost point lies a scenic drive in the other direction.
Knockinaam Lodge Enjoys a Stunning Location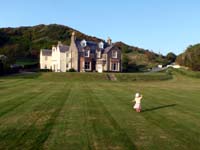 This gorgeous and deeply romantic old dame only has ten lovely rooms and enjoys a stunning location with views of the Irish Sea. It would be a top-notch place to stay with its grand public rooms, huge lawn and secluded beach, but there is also the added attraction of their remarkably good restaurant, which retained its Michelin star earlier this year.
Knockinaam Lodge Feels Very Exclusive
Those ten rooms make it all feels very exclusive. High tech gadgets and cold minimalism are eschewed, and thankfully so is tartan twee, in favour of traditional décor and furnishings that are not overdone. We stayed in Pond with its oversized bath and views over the eponymous pond. The fact that they also left us some toys and even bath toys made our young children's weekend too.
The Restaurant at Knockinaam Lodge is Truly Superb
The restaurant is truly superb, both in terms of its local sourcing as well as the actual cooking. The locally caught halibut on our multi-course tasting menu was superb, with service professional, but still friendly and unobtrusive. Head Chef Tony Pierce is the star in the kitchen. They also do excellent set lunches at weekends and also bar meals if you are looking for something lighter.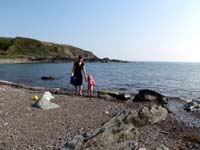 The best seats are in the windows so book ahead for these.
Lovely Public Rooms at Knockinaam Lodge
The lovely old fashioned public rooms are ideal for just lazing the day away with a good book – they have their own wee library – or playing one of the traditional games they sport. A wee dram is a temptation too with a well stocked whisky bar on hand. Outside the massive lawn is great for a stroll with the duo of resident dogs on hand for a runaround. The secluded beach is fun for a paddle or some stone skimming and a few brave guests have been known to go for a dip. The small playpark is handy for those with young ones in tow.
Walking the Rhins of Galloway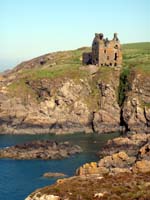 The Rhins of Galloway are superb walking country. A path sets off north from the lodge straight up on to the cliffs in search of Portpatrick. We followed it one morning and enjoyed three miles of stunning coastal scenery, a wide bay where we watched a large gannet diving for his breakfast and the romantic ruins of Dunskey Castle. Portpatrick itself boasts a cute wee harbour, a beach and a charming collage of painted and whitewashed houses. There are also some good eating options with the feast of Portpatrick lobster, crab claws and mussels in a creamy broth at the Crown a real treat.
Knockinaam Lodge, Portpatrick, DG9 9AD. Tel: +44 (0)1776-810471. www.knockinaamlodge.com
InsiderScotland Rating
For Families 6/10
For a Romantic Break 8/10
For Food 8/10
For Business People 6/10
InsiderScotland Rating 8/10
Also on InsiderScotland: