Hands up if you think science is, well, just a little boring? Well I'm hopefully about to change your mind, or rather the Edinburgh International Science Festival is!
Edinburgh these days is no longer just about its world famous summer festival in August. There are myriad festivals throughout the year and I'll be taking my kids back to this one as it's ideally on during the school holidays.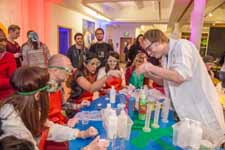 This scientific extravaganza bashes through the capital from April 4-19, with myriad events to suit all ages and interests, from vintage computer games to space ships, from toddler fun, through to more serious debates on the future of drugs policy in the UK and environmental sustainability.
The festival spreads its wings across various venues from the National Museum of Scotland, through to Gorgie City Farm and the Royal Botanic Garden. The two key hubs are the City Art Centre and Summerhall.
Summerhall
By day Summerhall is geared towards younger children and families, while at night the focus moves on to teenagers and adults. My girls are booked in for two dinosaur events, but I have to confess I'm more interested in Scimart here, a farmers' market with a scientific angle, with cooking demonstrations from celebrated Edinburgh chef Paul Wedgwood.
City Arts Centre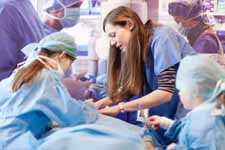 You need to buy a Day Pass to get into the City Arts Centre. This 'science playground' features workshops, shows and swathes of interactive events you can get involved in. There are drop-in sessions as well as ticketed events. I'd recommend pre-booking the latter as they tend to be very popular.
I've booked Emma, my youngest, into Timmy the Turbine in the Story Tent, where songs and rhymes will be used to broaden her wee mind. At the City Art Centre all my family are dropping into the Cosy Cosy Game Show, which has a duel function of play and learning, as you have to stop heat leaking from model houses.
National Museum of Scotland
I'm most looking forward to revisiting my own childhood at the National Museum of Scotland at Games Masters. They've got 30 videogames from down the years so I'll be introducing my 7-year-old daughter Tara, a Minecraft fan, to the likes of Mario Kart and Pac-Man. The museum also has a large-scale model of NASA's Mars Rover and she is a big fan of all things space related.
Packed Edinburgh International Science Festival Programme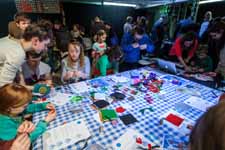 The festival programme is packed and half the fun for us has been pouring over it circling the things we all fancy doing and chatting about what they would be like. Both my girls pretty much want to see and do everything in the programme!
Other highlights include foraging at Gorgie City Farm, the open air Light Works exhibition in St Andrew Square to celebrate the UN International Year of Light 2015, Dr Bunhead's Exploding Easter Egg Show at George Square Theatre and Animal Cultures at Edinburgh Zoo. The latter sees researchers from all over the UK get together to discuss their work on the social life and interactions of animals.
Edinburgh today is about far more than the world's biggest arts festival in summer. I'd thoroughly recommend heading along to the Edinburgh International Science Festival. At University I was an Arts student, but if this year's festival is anything like previous years I guarantee you'll end up being converted to the idea that science really can be a lot of fun and it's certainly not boring!
Booking Information
For more information on the Edinburgh International Science Festival see www.sciencefestival.co.uk. The booking hotline is 0844-5572686.
For details on Edinburgh's range of festivals see www.edinburghfestivalcity.com.
Also on InsiderScotland: