That many overseas visitors to Scotland know little or nothing about East Lothian is not that much of a surprise. Not when you consider that many Scots are not that familiar with the charms of East Lothian.
Abundant Charms
And charms East Lothian has in abundance with sweeping beaches, bountiful birdlife, cute wee villages, a fantastic family farm park and then both the Scottish Seabird Centre and the National Museum of Flight, making it ideal for a family break. We've always had a soft spot for East Lothian. Lying just east of Edinburgh it so easy to get to, but feels a world away from the city. Soon the bustle is gone as you enter a world of big skies, North Sea views and rolling countryside, framed by the smooth Lammermuir Hills to the south, separating this genteel part of Scotland from the Border badlands.
Food is Big News in East Lothian
We based ourselves in Haddington, a real market town whose authentic wee shops are such a lovely alternative to the massive malls most people shop at these days. Our hotel was the Maitlandfield House Hotel, a stately abode just across from the impressive St. Mary's Church, just one of the grand churches and historic castles that dot East Lothian.
Food is big news these days in East Lothian and Maitlandfield boasts a great restaurant. Here we tucked into dishes of local meat marinated in East Lothian Thistly Cross cider and salmon smoked just along the coast in Dunbar. This is the land of Belhaven too, a top notch brewery that brews the wonderful Belhaven Best ale so we enjoyed a pint of that after dinner.
Lothian's Leading Family Attraction
Lothian's number one family attraction is one of Scotland's best too. East Links Park is kiddie heaven, a wonderland alive with Highland cattle, deer, donkeys and even lamas. A cute wee train takes you around the park. You can throw animal feed from the train which goes down well with the youngsters as they fling out pellets that are soon gobbled up by the chasing lamas. A new addition to the trampolines, go karts and pony rides is The Fortress, four levels of family fun with slides, climbing ropes and slides.
The National Museum of Flight at East Fortune meanwhile has plenty for kids and big kids alike. Here you can join the real jet set and board Concorde for a tour, climb into the cockpit of a Jetstream and ramble amongst a whole host of military and civilian aircraft. Films, models and displays further tell the story of this old air force base and of aviation generally. The best time to come is in July when they hold their annual air show, a huge event that sees thousands of people descend to see aerobatic displays.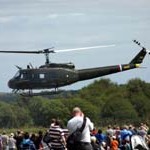 Moving on to North Berwick the Scottish Seabird Centre fills you in on everything you could ever want to know about Scotland's birds with live camera footage from nearby Bass Rock that you can control amongst the myriad attractions. There are plenty of bits and bobs for kids to play with as well as a soft play area. The best way to end a visit is at their café with its sweeping sea views. Sitting here with Bass Rock blinking back, birds swirling all around and the city seemingly a million miles away we're confident you'll want to indelibly mark East Lothian on to your Scottish travel map.
Also on InsiderScotland:
Category: Central Scotland, Regions