The Royal Burgh of Dornoch is famous for a number of things including the renowned Royal Dornoch Golf Course, an equally renowned sandy beach and as the town where Madonna and Guy Ritchie got married back in.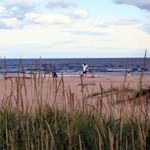 This pretty town also boats attractive sandstone buildings, a Cathedral, a brace of independents shops, decent cafes and eateries. Situated on Main Street the Dornoch Castle Hotel, just an hour's drive north up the A9 from Inverness, reclines right at the centre of all this.
Stay in a Real Castle
Dornoch Castle Hotel offers the chance to stay in a bona fide castle that is not shut away in acres of grounds in the middle of nowhere. Here you can enjoy the grand castle experience, but still stroll out about town easily. There are a variety of rooms to choose from, some with four-poster beds, as well as the award winning Courtroom, the plushest adobe. Then there is the excellent restaurant and the world class golfing nearby.
Period Features
The 24 rooms go from relatively basic through to luxurious. The highlight is the aforementioned Courtroom, which comes complete with a hand carved four-poster bed, open log fire and a spa bath. Neat touches in the rooms include complimentary sherry and chocolate, a tea tray and flat screen TVs. We liked the fact that the owners have kept, or have to keep, many of the period features giving rooms a real sense of history.
Delve Deep into the Larder of Scottish Produce
The Garden Restaurant delves deep into the excellent larder of Scottish produce. Over two nights we feasted on perfectly cooked venison from Sutherland, langoustines landed at Portsoy and smoked haddock from nearby Golspie. The staff are friendly and were great with our kids. The wine list is as reasonable as the menu and the early diner menu is even better value.
Aside from the restaurant the chief attraction is the garden where you can recline on a picnic bench with a drink and enjoy Dornoch's sunshine – the locals claim that this is the sunniest town in Scotland. The residents' lounge is a handy place for making the most of the complimentary wifi. In winter the bar comes into its own with a huge open log fire crackling a welcome to new arrivals.
Dornoch Castle Hotel, Castle Street, Dornoch, IV25 3SD. Tel: +44(0)1862-810216. www.dornochcastlehotel.com
InsiderScotland Rating
For Families 6/10
For a Romantic Break 6/10
For Food 7/10
For Business People 6/10
InsiderScotland Rating 7/10
Also on InsiderScotland:
Category: Eat, Highlands & Islands, Highlands & Islands, Sleep