Launched in 2011 I road tested these lightweight, waterproof and breathable multi activity shoes in Turkey and Scotland. Many shoes claim to be good all rounders, as happy trekking as they are scrambling over rocks, or even just out on a city break or walking the dog, but Brasher Kuga GTX Mens multi-activity shoes hit the spot.
Comfortable Walking Shoes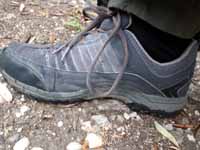 The upper is 1.4-1.6mm nubuck leather with a 3D breathable air mesh that helps keep your feet cool in hot conditions. I liked the memory foam in the collar and the all round level of well designed padding, which was akin to wearing a pair of cosy slippers or some high end running shoes.
Brasher were the pioneers in making walking boots comfy with chunky, shock absorbent soles and their expertise shows here. The sole is Brasher's three-part all terrain sole unit, which is made up of a rubber outsole for grip, 'shock absorbing EVA midsole' and 'TPU plate for torsional rigidity', with an 'ortholite dual density footbed'. What that all actually means in layman's terms is that you get great grip and shock absorption, which I tested scrambling and bouncing around some big boulders in Turkey. I liked the reinforced toes that prevented me bashing my toes on the rocks.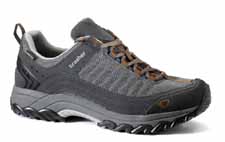 I had them trail walking, kayaking, mountain biking and scrambling and they worked well in all these situations. They are GORE-TEX® lined, but I could not see them standing up to a serious Scottish bog so I would not use them instead of boots in Scotland, but abroad and on shorter Scottish trips when you need something versatile. The fact that they only weigh 916g also means that they are easy to pack. I wore them in restaurants and cafes too with long trousers and they did not look out of place which is handy at places that normally turn their nose up at boot wearers.
They come in sizes ranging from 7 up to 12 with half sizes for men. Currently they only come in grey with orange trims.
The Brasher's recommended retail price is £100 on the nose. www.brasher.co.uk
InsiderScotland Rating
We Liked: Great all rounder that works in many hiking situations as well as other adventure sports and can even be worn as casual shoes.
Not So Good: Not a boot replacement and colour scheme limited for now.
Performance 8/10
Looks 8/10
Value for Money 7/10
Overall InsiderScotland Rating 8/10
Also on InsiderScotland:
Category: Features