Creative food that makes the best of local produce and dishes expertly crafted by chef Ian McAndrew make this intimate restaurant a strong contender for the best restaurant in Dumfries and Galloway.
Were Ian McAndrew conjuring up such superb cuisines in one of Scotland's cities he could well be looking at some serious attention from the Michelin inspectors. That he continues to strive for creativity and proper local sourcing in such a remote locale is testament to a chef whose passion for cooking never wanes.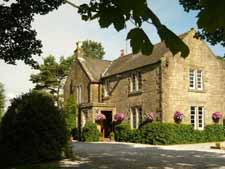 The setting for his gastronomic temple is an unlikely one, in a slightly faded old hotel in the sleepy Dumfries and Galloway town of Sanquhar. The town has seen better days, but his eatery is a real shining star and good value too for food of this quality, at £60 for three courses for dinner.
Perfectly Seared Scallops
And what a dinner it is. The bijou dining room is the setting for a spectacular experience. The menu changes daily with local produce bursting forth. The red meat is largely from 'Dominic' over at Sunny Side Farm, the salmon from the Marrbury Smokehouse in Newton Stewart and cheese from Loch Arthur Creamery just down the road near Dumfries.
We started with perfectly seared scallops spiced up with black pudding, braised puy lentils and red wine infused shallots. Our well priced Piquet de Penet white wine stood up well to this as it did to the galantine of rabbit, served with honey braised apricots and pickled shallots.
Daring Mains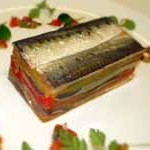 The main courses were even more impressive. The most daring was vanilla poached halibut on a crab and pea risotto. Vanilla is normally something I always associate with sweet dishes, but here this pungent flavour married brilliantly with the flakes of white fish and the accompanying parsley oil and red wine jus. A more conventional option was the perfectly medium rare loin of roe deer on red cabbage, which came with red wine glazed shallots, roast artichoke and a sauce poivrade.
Olive Tuile
After such impressive mains dessert would have to be spot on to keep up the intensity. Fortunately it was. The highlight was the tapas style roast banana, which came along with amaretto sorbet, rum and chocolate mousse and a warm banana and ginger cake, each segment matched perfectly with the others and going well too with a glass of Sauternes.
The olive tuile was a daring savoury addition to the warm carrot and walnut cake, as was the fennel ice cream, perhaps this time a little too daring as they slightly detracted from rather than enhanced the flavours of the cake.
We left Blackaddie with myriad flavours and sweet and savoury sensations mingling on our palates. Ian McAndrew does not have to endeavour to cook food this ambitious in Sanquhar, but he chooses to despite what must be a bit of a struggle to keep the dining room full. Hopefully for Ian it won't be too long before his unstinting efforts are rewarded beyond Dumfries and Galloway.
Blackaddie Country House Hotel, Blackaddie Road, Sanquhar, Dumfries and Galloway, DG4 6JJ. Tel. 01659-50270. www.blackaddiehotel.co.uk
InsiderScotland Rating
For a Romantic Meal 8/10
For a Business Meal 7/10
For Families 6/10
For Real Gastronomes 8/10
InsiderScotland.com Rating 8/10
Also on InsiderScotland: