Steeped in breathtaking natural beauty Argyll is one of the most scenic corners of Scotland. A region awash with lochs, rolling hills and ancient forest, it is also criminally undiscovered. Its expansive coastline offers clear blue waters and sandy beaches. Then there are its wealth of historic castles and monuments and attractive towns and villages. Buzzing Oban, meanwhile steaks a fair claim to being Scotland's seafood capital, while also offering easy access to many of the region's islands, with its busy CalMac ferry terminal.
Argyll Offers Top Class Walks
It is perhaps unsurprising then that Argyll offers some top class walks, all of which are free. One unheralded long distance walk is the Cowal Way, which, after a recent extension, now runs 57 miles from the slick oasis of Portavadie Marina to Inveruglas on the banks of Loch Lomond. The Cowal Peninsula is actually great cycling country too with its quiet roads and epic scenery. The sweeping beaches out on the Kintyre peninsula don't cost a penny to visit either, with some of the most impressive stretches right down south at Machrihanish.
An Abundance of World-Class Seafood in Argyll
It is of course Argyll's epic nutrient rich waters, which are warmed by the Gulf Stream in some parts and are ice cold in others that ensure that Argyll Scotland dishes up a heaving catch of world-class seafood . All too often much of it is spirited off to the fine dining tables of London, Paris and Madrid, but the canny inhabitants of Argyll in recent years have been making sure to keep plenty for themselves too, making it the nation's number one destination for lovers of fish and shellfish.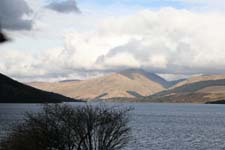 Even better you don't need to take out a second mortgage to enjoy it. At the famous seafood shack on Oban's pier you can savour boat fresh shellfish for next to nothing. Just around the corner the Waterfront Fishouse Restaurant offers the full sit down dining experience with harbour views to accompany the bounty of shellfish, white fish and steaks, as well as a bargain two course lunch or early dining menu.
Also on InsiderScotland:
Category: Argyll & Perthshire, Regions